Bluff-a-lo Wings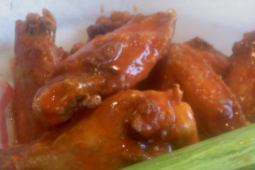 Voted Sevierville's Best! Our signature wings are seasoned to perfection.
Don't like the mess, try our dry seasonings!
Traditional or Boneless
$8.99
Signature Sauces: Sweet BBQ, Sweet Chili, Teriyaki, Garlic Parmesan, Sweet Tangy Mustard,Doc's Ranch, Bango Mango, Wild Buffalo, Wicked Ranch, Caribbean, Chipotle BBQ, Cuz's Spicy BBQ, Hot Chocolate, Spicy Ranch, Bluffs, Hot Buffalo, Fire Tower, Ghostly.

Dry Seasonings: Dry Spiced, Sweet Heat, Salt 'n Pepper.
Starters
Spinach Dip
$7.99
A savory combination of Monterey Jack cheese, Parmesan cheese, chopped spinach, and artichoke. Served hot with fresh tortilla chips for dipping.
Chicken Fritters
$8.99
Hand cut and breaded strips fried to perfect golden brown.
Fried Pickles
$7.49
The perfect start to a mountain-sized hunger. Sandwich sliced, hand breaded, and fried until they're just right.
Zesty Rolls
$8.99
Bringing some spice to the mountains, these rolls are stuffed with black beans, chicken, corn, and a shredded Southwest cheese blend.
Fried Shrooms
$7.49
We pick 'em, hand bread 'em, and dropp 'em in the fryer until they hit that perfect point.
Southwest Quesadilla
$8.99
A local favorite! Two flour tortillas packed with pico de gallo, cheddar jack cheese, and chipotle marinated chicken at the peak of its flavor.
Jacked Up Beer Cheese
$7.99
Melted blend of Jack Daniel's whiskey, brown ale, and cheeses served with warm soft pretzels.
Cheese Sticks
$7.99
Mozzarella sticks breaded and deep fried to a golden brown, served with hot marinara.
Loaded Nachos
$9.99
A mountain of nachos in their own right. We top tasty tortilla chips with chili, meltedqueso, jalapenos, pico de gallo, black olives, and sour cream. Add chicken for $3.99
Bluffs Sampler
$13.99
PICK THREE: Boneless or traditional wings, fried pickles, mozzarella sticks, zesty rolls, fried shrooms, or quesadilla.
Talk of the Town Burgers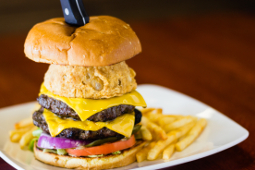 All burgers topped with a signature onion ring, 1/2 lb. of hand patted 100% Black Angus ground chuck. Served with seasoned fries and lettuce, tomato, pickle, and onion. Substitute grilled chicken breast $.99.
The Classic
$8.49
An all American classic. Simply delicious! Add a slice of American cheese for $.50.
Sunny Side
$9.49
Wakey, wakey, eggs and bakey! Crisp bacon and a fried egg sunny side up.
The Pounder
$13.99
This monster isn't for the faint of heart. We stack this burger with a full pound of Black Angus and two slices of American cheese.
Silly Philly
$9.49
Philly on top of Bluffs. Sauteed onions, pepers, mushrooms, and Provolone cheese.
Twisted
$9.99
Our classic burger got all twisted up. Crisp bacon, jacked up beer cheese and our delicious house pretzel bun toasted.
Big Kahuna
$9.99
A volcano of flavor, juicy ham, grilled pineapple, crisp bacon, and smothered in teriyaki sauce.
Heart Stopper
$10.99
We've stuffed a Black Angus patty, crisp bacon, and gooey cheddar cheese between two grilled cheese sandwiches because you only live once!
Cheeeeezy
$9.99
Cheesier than Wisconsin, this one is topped with two slices of American cheese, and some fried cheese sticks.
Cilantro Lime
$9.49
For a fresh change of pace, pico de gallo, Monterey Jack cheese, and fresh chopped cilantro.
Fire Cracker
$9.99
Light up your taste buds with fried red and green peppers, diced jalapenos, pepper jack cheese, and chipotle mayonnaise.
Smokehouse
$9.99
Crispy onion straws, gooey cheddar cheese, sweet barbecue sauce, and the crispest bacon we could find.
I.Love.Bacon
$10.99
This is the burger that will cause "Baconpocalypse." American cheese and then topped off with not one, not two, but six strips of wonderful bacon.
All Black N Blue
$9.49
Your taste buds will be battling, Black Angus patty blackened, and then top it off with melted blue cheese crumbles.
Piggy Wiggly
$10.99
Beef and pork meet at the peak of flavor, topped with a mound of BBQ pulled pork and crispy onion straws and spicy BBQ sauce.
Southwest
$9.99
Here's a taste of the border, chipotle mayo, pepper jack cheese, pico de gallo, spicy jalapenos, and fresh avocados.
California
$9.99
West coast is here on the Bluffs. Sliced avocados, fresh spinach, and Monterey Jack cheese for a lighter delight.
The M.O.S.
$9.99
Sauteed mushrooms, caramelized onions, and Swiss cheese. M.O.S...get it.
Bluffs Sliders
$9.49
Perfect bite sized burgers, with diced sauteed onions, and American cheese.
Ragin' Cajun
$9.99
From New Orleans and back, it's all fired up with spicy remoulade, cajun seasonings, and pepper jack cheese and jalapenos.
Surf N Turf
$11.99
We've topped this one with shrimp sauteed in garlic and chopped spinach, with Monterey Jack cheese and a garlic mayo.
Consuming raw or under cooked meats, poultry, seafood, shellfish, or eggs may increase your risk of food borne illness.
Sandwiches and Flatbread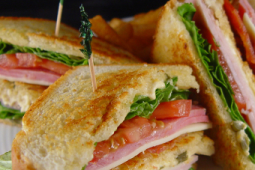 All sandwiches are served with seasoned fries
Turkey Melt
$7.99
We've combined sliced turkey, pepper jack cheese, marinated red onions, and diced tomatoes to create this colossal taste of a sandwich.
Jacked Up Philly
$8.99
A classic sandwich with a twist, your choice of chicken or steak, then topped with mushrooms, onions, bell peppers, and beer cheese to be king of Bluffs.
Stacked Club
$8.99
This mile high sandwich is stacked with ham, turkey, lettuce, tomato, mayonnaise, bacon, Monterey Jack cheese, all on a toasted sourdough bun.
Pulled Pork
$9.99
This big piggy has lip smackin' BBQ sauce, onion straws, and pickles for a monumentally tasty sandwich.
Steak Sandwich
$10.99
Thin sliced and grilled marinated steak matched up with lettuce, tomatoes, caramelized onions, Provolone cheese, and garlic mayo carried on a toasted hoagie bun.
Chicken Caesar Flatbread
$7.99
Enjoy this lighter sandwich with chopped romaine, and shredded Parmesan cheese tossed in Caesar dressing, and served with sliced grilled chicken.
BLT Flatbread
$6.99
A recipe as old as the Bluffs, crispy bacon meets lettuce, tomato, and mayo on top of warm flatbread.
Salads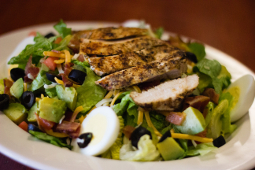 All salads come with your choice of dressing: 1000 Island, Balsamic Vinaigrette, Blue Cheese, Chipotle Ranch, Honey Mustard, Italian, Ranch
Mount Cobb Salad
$11.99
Piled high with grilled chicken and bounced around with egg, avocado, black olives, chopped bacon, diced tomatoes, and cheddar jack cheese to create a mountain of a salad.
Chicken Caesar Salad
$10.99
A classic salad to keep some variety. Chopped romaine, croutons, Parmesan cheese, and caesar dressing tossed together and topped with sliced grilled chicken.
Black 'n Blue Salad
$11.99
Gotta try this salad! Sliced blackened steak, diced tomatoes, and blue cheese crumbles atop chopped romaine lettuce and chunky blue cheese dressing.
Chipotle Chicken Salad
$10.99
Rolled in from the southwest. Buffalo grilled chicken, cheddar jack cheese, pico de gallo, black olives, crumbled tortilla chips, and chipotle ranch dressing.
Entrees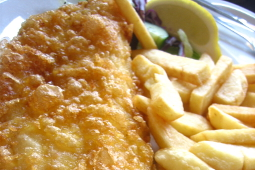 Add a house or Caesar salad to any entree for $2.99
Landslide Chicken
$12.99
The Bluffs have crashed down onto grilled chicken breasts topped with sauteed mushrooms and onions, then covered with melted Provolone cheese, diced bacon, over rice, with steamed broccoli.
Famous Fajitas
$14.99
Sizzling Bluffs feature, your choice of chicken, steak, or shrimp in a sizzling skillet over roasted onions and peppers, with lettuce, pico de gallo, shredded cheese, and sour cream.
All-Star Shrimp
$13.99
Nothing shrimpy about this dish. Butterflied jumbo shrimp either golden fried or skewered and grilled with your choice of two sides.
Spicy Fish Tacos
$11.99
We take three filets, hand bread and fry to a crisp, wrapped in fire grilled flour tortillas topped off with lettuce, pico de gallo, fresh cilantro, spicy remoulade. Served with fries and fresh slaw.
Kickin' Chicken
$12.99
Kick these grilled chicken breasts into your choice of spicy BBQ, Caribbean, or teriyaki sauce accompanied by rice and broccoli.
Bluff's Tenders
$11.99
Hand breaded chicken tenders fried to perfection served with our seasoned fries and fresh slaw.
Sides include: Onion Rings, Steamed Broccoli, Loaded Potato Salad, Seasoned Fries, Fresh Slaw, Rice Pilaf, Tater Tots.